Health Screenings/Surveys
A newly developed, fully customizable survey engine to ask relevant questions to people before they arrive on site or begin their shift as required by your organization, municipality or governing body.
Create an unlimited number of surveys and assign to all employees, contractors, or other populations entering your venue. Prompt these surveys on ABI Terminals, mobile devices, or on the web to provide maximum flexibility with deployment. Designate responses that will automatically deny entry to the building and populate reports for health and safety tracking.

Touchless Check In
Minimize contact points by setting terminals to operate in touchless mode, utilizing mobile or Web Check In, or handheld devices.
Touchless mode utilizes universal barcodes to allow Check In/Out or Meal In/Out without physically touching the terminal devices. Staff and vendors will follow their existing process of scanning their credential, and subsequently scanning a corresponding barcode to perform an action. Sites can flexibly deploy the new barcodes with sticker labels, new badges, or electronic barcodes.
Sites can also deploy the ABIMM Remote Terminal (ABIMM RT) app (available for free on the Android Play Store and Apple App Store). This functionality validates per person and can be limited to a specific Wi-Fi network or GPS location to ensure a shift is initiated in the proper location. Alternatively a person can utilize their work computer and Check In via the ESS Web Timeclock.
ABI Handheld Check In devices can also be used to hygienically Check In staff or vendors. Because a single supervisor handles these devices they allow staff to simply display their badge to scan and move on.

Contact Tracing
All entities, whether they be staff, vendors, temps, or visitors, can be scanned and tracked with the ABI system. ABI reporting will automatically store all records of a person checking in or out of the system to allow a quick audit of those present during specific dates and times.
Enhanced scheduling options group people into physical locations, departments, or events and quickly allow health and safety personnel to identify and isolate those present for a given event.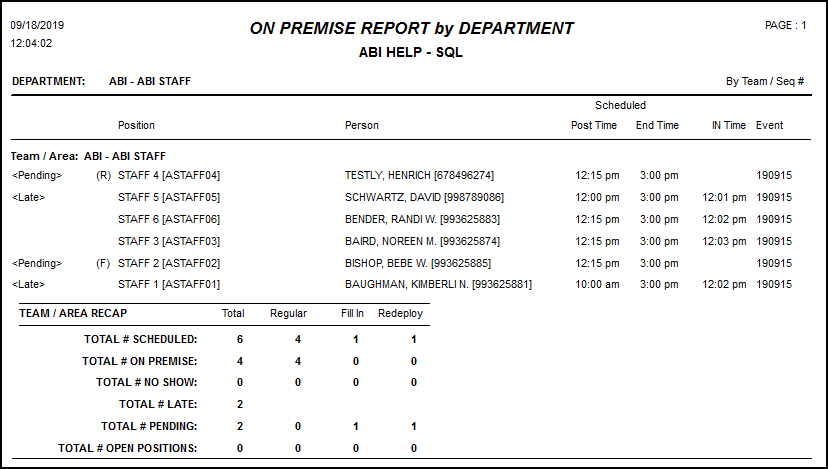 Communication
Mass texting and emailing options provide the ability to communicate any guidelines or updates to all staff on premise, or to specific groups and departments.
By integrating the on premise details with the emailing platform, health and safety can quickly disseminate any emergency or critical information to all entities on site. If a positive test result is discovered after the fact, supervisors can leverage the schedule and Check In data from a previous date to notify those who may have been exposed.